Voter Education
registration and Elections
Voter education and outreach
Voter Education and outreach
The Department of Registration and Elections regularly partners with civic, business and religious organizations to conduct voter registration drives.
Groups interested in scheduling a drive can email this form to veo@fultoncountyga.gov or by fax to 404-612-2545.
WHAT IS VOTER EDUCATION AND OUTREACH?
Voter Education and Outreach (VEO) is an essential non-partisan comprehensive team providing the citizens of Fulton County with vital voting and election information that enhances the voting experience. This is our responsibility to the democratic process. The goal of Voter Education and Outreach (VEO) of Fulton County is to nurture enthusiasm for the electoral process and to reach out to eligible voters across the county.
What we do during outreach presentations:
Provide information on upcoming elections
Provide information on early voting and how to obtain an absentee ballot
Provide information on acceptable identification at the polls
Provide Georgia Voter Identification Cards
Register people to vote
Where we will do outreach presentations:
Senior Centers
High schools
Colleges
Neighborhood Association meetings
Church congregations
Civic organization meetings
Social events
Examples of questions answered during a presentation:
Am I registered?
When and where do I vote?
Can I vote at any location?
What's on the ballot?
What do I need to bring with me to the polls?
How do I vote absentee?
What's a provisional?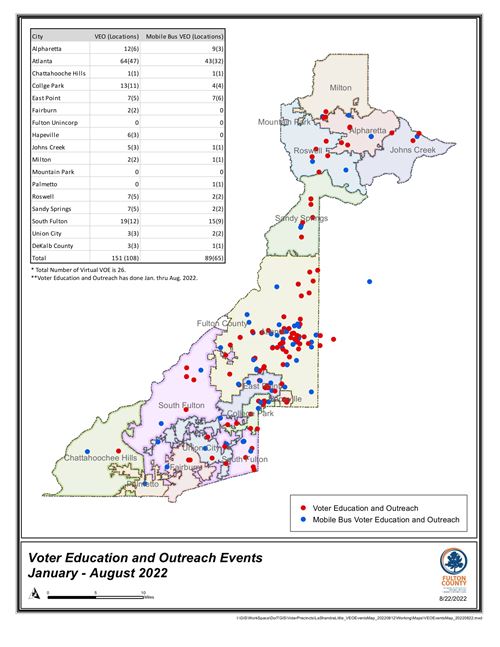 voter education and outreach schedule
2023
| | | | | |
| --- | --- | --- | --- | --- |
| DATE | TYPE OF EVENT | REQUESTOR | LOCATION | TIME |
| 5/4/2023 | Voter Education and Outreach | Auburn Neighborhood Senior Center | Auburn Neighborhood Senior Center 300 Edgewood Ave, Se Atlanta, GA 30312 | 9:30 am - 12:00 pm |
| 5/6/2023 | Fulton County Mobile Bus Voter Education | Fulton County Commissioner | South Fulton Service Center 5600 Stonewall Tell Rd, South Fulton, GA 30349. | 10:00 am - 2:00 pm |
| 5/6/2023 | Voter Education and Outreach | Fulton County Commissioner | Reimagined Joy Festival, 2148 Newnan Street, East Point, GA 30344 | 10:00 am - 6:00 pm |
| 5/7/2023 | Deputy Registrar Training | Fulton VEO | Virtual email veo@fultoncountyga.gov to sign up | 10:00 am - 11:00 am |
| 5/9/2023 | Deputy Registrar Training | Fulton VEO | Virtual email veo@fultoncountyga.gov to sign up | 6:00 pm - 7:00 pm |
| 5/10/2023 | Deputy Registrar Training | Fulton VEO | Virtual email veo@fultoncountyga.gov to sign up | 10:00 am - 11:00 am |
| 5/10/2023 | Deputy Registrar Training | Fulton VEO | Virtual email veo@fultoncountyga.gov to sign up | 6:00 pm - 7:00 pm |
| 5/11/2023 | Deputy Registrar Training | Fulton VEO | Virtual email veo@fultoncountyga.gov to sign up | 6:00 pm - 7:00 pm |
| 5/12/2023 | Deputy Registrar Training | Fulton VEO | Virtual email veo@fultoncountyga.gov to sign up | 12:00 pm - 1:00 pm |
| 5/13/2023 | Deputy Registrar Training / Voter Education | Alpha Kappa Alpha Sorority, Incorporated - Pi Alpha Omega Chapter | Atlanta Metropolitan State College 1630 Metropolitan Pkwy SW Atlanta, GA 30310 | 12:30 pm - 2:00 pm |
| 5/19/2023 | Voter Education and Outreach | Atlanta Public Schools | Booker T. Washington High School, 45 Whitehouse Dr SW, Atlanta, GA 30314 | 12:00 pm - 2:00 pm |
| 5/20/2022 | Fulton County Mobile Bus Voter Education | Fulton County Commissioner | Welcome All Park 4255 Will Lee Rd, South Fulton, GA 30349 | 10:00 am - 2:00 pm |
| 5/20/2023 | Fulton County Mobile Bus Voter Education | City of Johns Creek Touch A Truck | City of Johns Creek City Hall 11360 Lakefield Drive , Johns Creek, GA 30097 | 10:00 am - 12:00 pm |
| 5/27/2023 | Fulton Mobile Bus Outreach | National Center for Civil and Human Rights | National Center for Civil and Human Rights 100 Ivan Allen Jr. Boulevard Atlanta, GA 30313 | 12:00 pm - 4:00 pm |
| 6/3/2023 | Voter Education and Outreach | City of Hapeville | Captains of Concrete, Tom E. Morris Sports Complex 3415 Claire Drive , Hapeville, GA 30354 | 12:00 pm - 6:00 pm |
| 6/5/2023 | Voter Education and Outreach | St. George Village | St. George Village 11350 Woodstock Rd, Roswell, GA 30075 | 10:00 am - 11:30 am |
| 6/16/2023 | Voter Education and Outreach | City of Hapeville | Movie Under the Stars, Jess Lucas Park 680 S Central Ave, Hapeville, GA 30354 | 7:00 pm - 10:00 pm |
| 6/17/2023 | Fulton County Mobile Bus Voter Education | City of Johns Creek | Johns Creek Juneteenth Community Celebration , Newtown Park 3150 Old Alabama Rd, Johns Creek, Georgia 30022 | 3:00 pm - 9:00 pm |
| 6/17/2023 | Voter Education and Outreach | Juneteenth Atlanta | Centennial Olympic Park 265 Park Ave West NW Atlanta, GA 30313 | 12:00 pm - 4:00 pm |
| 7/4/2023 | Voter Education and Outreach | City of Mountain Park | Mountain Park City Hall/City Center, 118 Lakeshore Dr. Roswell, GA 30075 | TBA |
| 7/15/2023 | Voter Education and Outreach | City of Hapeville | Jazz and Seafood, Jess Lucas Park 680 S Central Ave, Hapeville, GA 30354 | 7:00 pm - 10:00 pm |
| 7/17/2023 | Fulton County Mobile Bus Voter Education | Atlanta Technical College | Atlanta Technical College, 1560 Metropolitan Pkwy, SW, Atlanta, GA 30310 | 11:30 am - 1:30 pm |
| 7/22/2023 | Voter Education and Outreach | Friendship Baptist Church | Friendship Baptist Church 80 Walnut Street, SW Atlanta, Georgia 30314 | 2:00 pm - 4:00 pm |
| 7/29/2023 | Fulton Mobile Bus Outreach | Union City | The Gathering Place Community Center, 6280 Bryant Street , Union City, GA 30291 | 9:00 am - 1:00 pm |
| 7/30/2023 | Fulton County Mobile Bus Voter Education | The Confess Project | 320 Sunset Avenue NW Atlanta, GA 30314 | 12:00 pm - 4:00 pm |
| 8/5/22023 | Fulton County Mobile Bus Voter Education | Liberty Community Services Inc. | 50 Peyton Place, SW Atlanta, GA 30311 | 12:00 pm - 3:00 pm |
| 8/16/2023 | Voter Education and Outreach | The Terraces at Peachtree Hills Place | The Terraces at Peachtree Hills Place 229 Peachtree Hills Avenue NE, Atlanta GA 30305 | 1:30 pm - 2:30 pm |
| 8/17/2023 | Fulton County Mobile Bus Voter Education | Atlanta Technical College | Atlanta Technical College, 1560 Metropolitan Pkwy, SW, Atlanta, GA 30310 | 11:30 am - 1:30 pm |
| 8/19/2023 | Voter Education and Outreach | City of Hapeville | Wings and Strings, Jess Lucas Park 680 S Central Ave, Hapeville, GA 30354 | 7:00 pm - 10:00 pm |
| 8/21/2023 | Fulton County Mobile Bus Voter Education | Wheat Street Towers | Wheat Street Towers 375 Auburn Ave. NE Atlanta, Ga. 30312 | 12:00 pm - 2:00 pm |
| 9/15/2023 | Voter Education and Outreach | City of Hapeville | Happy Days Weekend, Jess Lucas Park 680 S Central Ave, Hapeville GA 30354 | 7:00 pm - 10:00 pm |
| 9/16/2023 | Voter Education and Outreach | City of Hapeville | Happy Days Weekend, Jess Lucas Park 680 S Central Ave, Hapeville GA 30354 | 7:00 pm - 10:00 pm |
| 9/26/2023 | Fulton County Mobile Bus Voter Education | Atlanta Technical College | Atlanta Technical College, 1560 Metropolitan Pkwy, SW, Atlanta, GA 30310 | 11:30 am - 1:30 pm |