Fulton County Sheriff Patrick Pat Labat to Provide 100 Day Update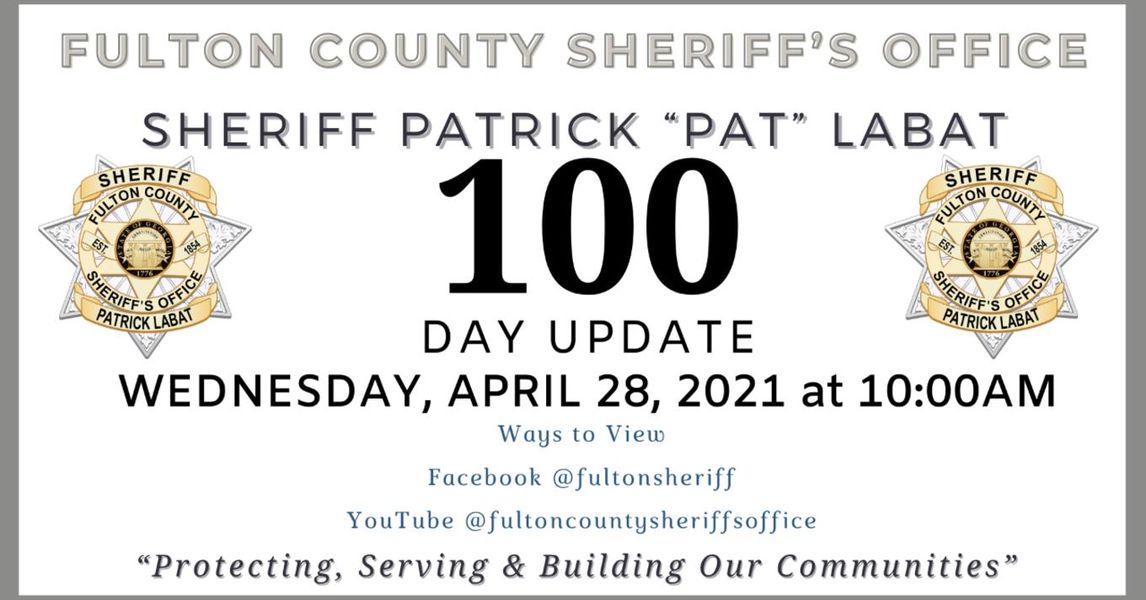 Fulton County Sheriff Patrick "Pat" Labat to Provide 100 Day Update
Protecting, Serving and Building Our Communities
UPDATE: The event will be on Facebook @Fultonsheriff and YouTube @FultonCountySheriffsOffice
Fulton County Sheriff Patrick "Pat" Labat is looking ahead to the future of the Fulton County Sheriff's Office (FCSO) while also reflecting on his first 100 days in office. Sheriff Labat is eager to provide a comprehensive update on the agency's accomplishments during his term thus far. He looks forward to hearing from the citizens of Fulton County with respect to their concerns and what they expect to see from the FCSO moving forward during a "100 Day Update" on April 28th.

Sheriff Labat will formally introduce his command staff to the community and highlight key partnerships with local, state and national law enforcement partners, elected officials, community stakeholders and citizens of Fulton County. Sheriff Labat will provide an overview of accomplishments over the last 100 days across all divisions of the Sheriff's Office including law enforcement, court, detention and operations, administration & community outreach.

"These first 100 days in office have been an outstanding start of what I am confident will be a long tenure of delivering top-tier service to the Fulton County community," says Sheriff Patrick "Pat" Labat. "In just these short 100 days, we have made some significant changes, witnessed new beginnings and established critical partnerships. I look forward to what the future holds, and am eager to hear from the citizens on what they expect from myself, and the Sheriff's Office as a whole."

Questions for the event can be submitted to fcso.communications@fultoncountyga.gov. Due to time constraints and the anticipated high volume of questions, the most frequently asked questions will be addressed live by the Sheriff. Citizens whose inquiries are not addressed live, will instead receive written responses.



ABOUT FULTON COUNTY SHERIFF'S OFFICE
The Fulton County Sheriff's Office is responsible for the administration and operation of the Fulton
County Jail, providing security for all courtrooms and judges, and providing warrant service/civil
process, special operations, and investigative units. The Sheriff's Office also provides support and
educational services to the community as a method of preventing and reducing crime.