Restoration of Courthouse Nears Completion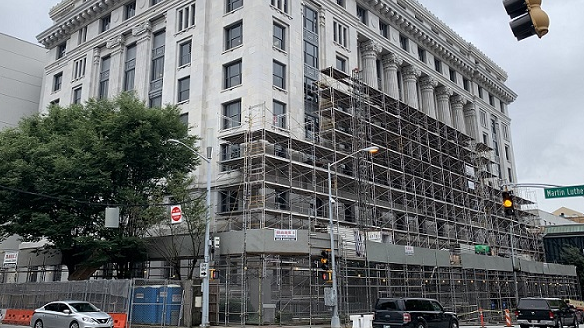 The Large Scale Project to Restore the Façade of the Fulton County Lewis R. Slaton Courthouse Nears Completion
The restoration of the 105-year-old Fulton County Lewis R. Slaton Courthouse is nearing completion. The remaining scaffolding is being removed in front of the Pryor Street entrance, setting the stage for the big reveal of the building in late August.
Begun in June 2019, the $19 million project included the full façade restoration of all exterior elevations of the historic, nine story, 275,000 sf Courthouse. Scaffolding was erected along the courthouse after ornamental molding made of terracotta detached from the building and fell to the sidewalk below.
"Restoration of the Lewis Slaton Courthouse is a project we all in Fulton County have watched closely," said County Manager Dick Anderson. "Restoring the courthouse has been a long-term goal. As we near the end of the project, we know the facility will continue to serve as a welcoming beacon and safe and sustainable resource to the employees, residents, and visitors in Fulton County."
"I am so excited that our Courthouse is getting this needed care and renovation," said Chief Superior Court Judge Christopher S. Brasher. "Bill Mason and his team, the County Manager, and our Commissioners deserve special thanks for their commitment to this project. Our Courthouse family is pleased to see the Slaton Courthouse, the Justice Center Tower, and the Carnes Building all look and function better (inside and out) than they have in the 30 years since I became a lawyer. Thank you to our County partners for restoring a sense of pride in our workplace."
As part of the restoration, skilled craftsmen cleaned, repaired and replaced cracked and failing terracotta and granite on the facade fixed exterior leaks to improve safety for pedestrians traveling near Courthouse and eliminate water intrusion into the building. The roof was also replaced with slate to provide long-term protection. Following the removal of the scaffolding, workers will refinish the entry ways, handrails, ornamental lamps, and clean remaining granite stains. Department of Real Estate & Asset Management Facilities Program Manager Bill Mason is excited to be part of this historic project.
"The restoration were completed using the materials original to the building such as terracotta," said Mason. "To be able to work with a team assigned to do a full exterior restoration is a once in a lifetime opportunity. We could not be more excited about the completion of the restoration. Extending the useful life of the Courthouse for years to come. The county and its residents will be proud of the work being done."
The Lewis R. Slaton Courthouse was constructed between 1911 and 1914 and was designed by noted Atlanta architect A. Ten Eyck Brown. It was listed on the National Register of Historic Places in 1980.n. The building fronts on Pryor Street and Martin Luther King, Jr Drive and is part of a justice complex that includes two other buildings. The project will be complete by the end of August.