Board of Commissioners named Y. Soo Jo as Sole Finalist for County Attorney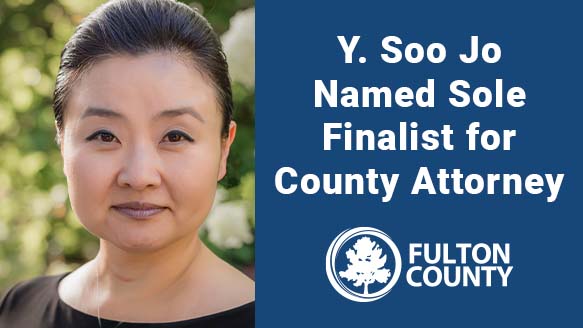 Board of Commissioners named Y. Soo Jo as Sole Finalist for County Attorney
On Wednesday, September 15, 2021, the Fulton County Board of Commissioners named Y. Soo Jo as the sole finalist for Fulton County Attorney. Ms. Jo brings more than 24 years of experience in the field of law, including practice as a public attorney with local, state and federal governments.

She has served most recently as an Assistant U.S. Attorney in the U.S. Attorney's Office for the Northern District of Georgia. Her previous public sector work includes service with the Gwinnett County Magistrate Court, the City of Atlanta Law Department, the Fulton County Attorney's Office, and with the Superior Court of Fulton County. During time in private practice with L.C. Davis Law, she represented the Georgia Department of Human Services.

Ms. Jo is a graduate of Georgetown University where she earned a Bachelor of Science degree in Languages and Linguistics. She also holds a Juris Doctorate degree from the Georgia State University School of Law.

She brings extensive volunteer experience with the State Bar of Georgia and the Georgia Asian Pacific American Bar Association.

Ms. Jo's credentials are available for review by the public. The Board of Commissioners will take a final vote on Ms. Jo's appointment during their meeting on Wednesday, October 6.