Fulton County Library System Celebrates Reopening of Central Library in Downtown Atlanta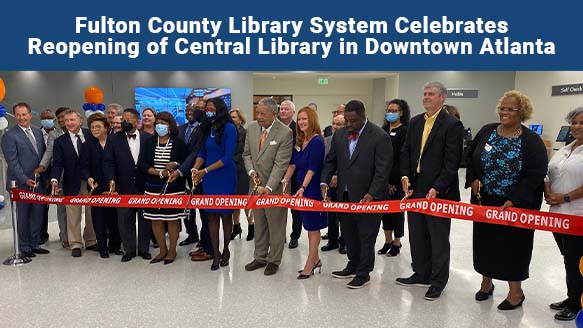 Fulton County Library System Celebrates Reopening of Central Library in Downtown Atlanta
The Fulton County Library System celebrated the opening of its 32nd project, the largest library to be renovated as part of a 2008 Bond Referendum which called for the building and expansion of 10 libraries and the renovation of 22 libraries in the Library System, including its Central Library and System Headquarters.
The celebration was attended by the Fulton County Board of Commissioners, all seven members were in attendance, the Library Board of Trustees, the leadership team from Fulton County Government, and the amazing architects and construction team that made up the design/build team for the project. Members of the design team from both Cooper Carry, Inc and Moody Nolan, as well as Winter Construction, were a part of the celebratory day.
In addition to the grand opening of the 10-story building, the unveiling of a public art project, which earned national acclaim for the Fulton County Arts and Culture Department, as well as the Library System.
During the event, which was hosted by 90.1 WABE's Rose Scott, journalist, and host of A Closer Look, attendees were treated to performances by the Georgia Philharmonic and the Georgia State University Jazz Orchestra.
After the ceremonial ribbon cutting, the Central Library officially opened its doors to the public. Hours of operation for the Central Library will continue Mondays and Tuesdays, 10 a.m. - 8 p.m. and Wednesdays through Saturdays, 10 a.m. - 6 p.m. More information about the Central Library is available at www.fulcolibrary.org/central-library.