The Fulton County Police Department Celebrates National Code Compliance Month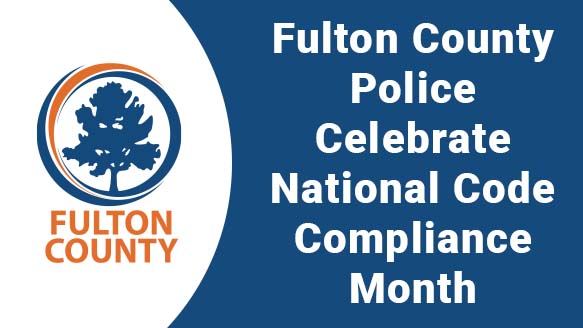 The Fulton County Police Department Celebrates National Code Compliance Month
The Fulton County Police Department joins agencies across the country in recognizing the work of Code Enforcement Officers. 
Throughout the month of October, the Fulton County Police Department is recognizing the hard work of its Code Enforcement Officers as it celebrates National Code Compliance Month.
National Code Compliance Month was established to recognize the work that Code Enforcement Officers perform to ensure that buildings and areas of land are safe for use. Code Enforcement Officers are also responsible for addressing zoning issues and issuing citations as needed.
Fulton County Code Enforcement works tirelessly to keep the communities within Fulton County clean and up to code. During National Code Compliance Month, Fulton County Code Enforcement would like to share the following accomplishments for 2021:
Recognized with a Proclamation from the Fulton County Board of Commissioners during National Code Compliance Month 2020.
Assisted in shutting down Club Riley's and removing an eyesore from the Fulton Industrial boulevard district.
Collected over $90,500 in fines and liens.
Shut down an illegal gas station operator, Shamrock, forcing the owner to evict and comply.
Created a County compliance taskforce to include neighboring counties.
For more information about Fulton County Code Enforcement visit, https://www.fultoncountyga.gov/services/public-safety/code-enforcement.