Fourth Annual Joan P Garner Walk Health Fair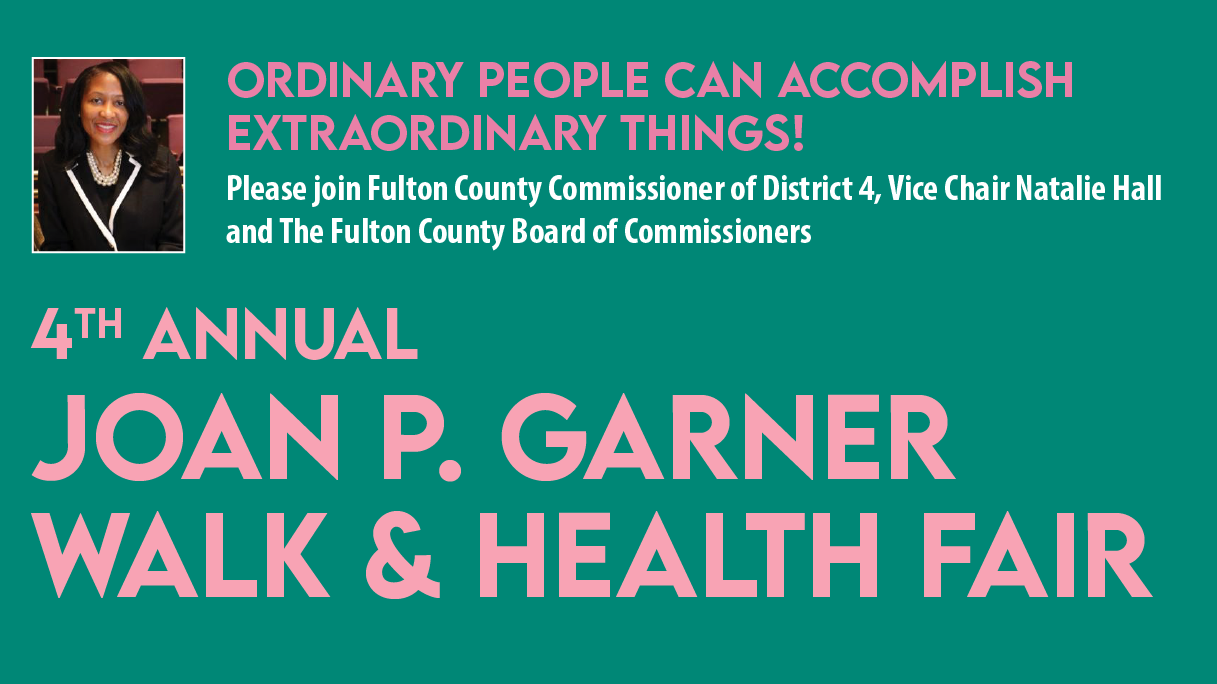 Vice Chair Natalie Hall to Host Fourth Annual Joan P. Garner Walk & Health Fair
Event to provide health screenings and family activities to the community
Fulton County Commissioner of District 4, Vice Chair Natalie Hall and the Fulton County Board of Commissioners will honor the legacy of the late Commissioner Joan P. Garner by hosting the 4th Annual Joan P. Garner Walk and Health Fair on Saturday, October 30, 2021, 10 a.m. - 2 p.m. at the Rodney Cook, Sr. Park on Joseph E. Boone Blvd. NW in Historic Vine City.
This annual community event provides Fulton County residents and guests with the opportunity to enjoy a day filled with fun while emphasizing the importance of health and wellness. This FREE event features a concert, performers, food vendors, games for children, prizes and giveaways, community-based resources, dance and fitness interactive activities, vaccinations, health screenings, a scavenger hunt, fashion show and other activities. The Community Organized Relief Effort (CORE) will be onsite to administer COVID-19 vaccinations free of charge to residents in attendance.
This year, the late Atlanta City Councilmember Ivory Lee Young, Jr. will be honored with the 2021 "Hats Off" for Public Service Award that will be presented to his wife, Rev. Shalise Steele-Young as a special tribute.

The day's events pay homage to the late Fulton County Commissioner of District 4 Joan P. Garner, who spent decades advocating for civil and human rights and health issues. She served as the Executive Director of the Historic District Development Corporation, which is the nonprofit founded by Coretta Scott King to revitalize the Old 4th Ward and Martin Luther King Historic District. During her tenure as commissioner, Joan P. Garner worked tirelessly to fight against health inequity, fought for assistance with the HIV crisis in the region, and became the Executive Sponsor of Fulton County Government's "All People Are Healthy" strategic priority area. Commissioner Garner lost her battle with breast cancer in 2017. This will be a day that will celebrate her life, legacy, and light.
"I am honored to host this event as a living tribute to my late boss, friend, and mentor, Commissioner Joan P. Garner, and her work to combat public health disparities that have challenged communities like Vine City," says Fulton County Commission Vice Chair and District 4 Commissioner Natalie Hall. "This event reflects her love for community and our efforts to continue addressing the issues that challenge much of Fulton County."
Limited free parking will be provided at the Georgia World Congress Center's Blue Lot located between Northside Drive and Maple Street.
For more information on this year's event, visit https://www.fultoncountyga.gov/joan-garner-walk or https://www.eventbrite.com/e/4th-annual-joan-p-garner-health-and-wellness-fair-tickets-172307054037 to register to participate.