Fulton County to Hold Ribbon Cutting Ceremony for Newly Renovated Lewis R Slaton Courthouse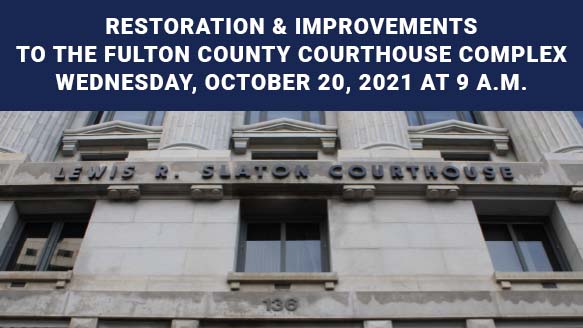 Fulton County to Hold Ribbon Cutting Ceremony for Newly Renovated Lewis R Slaton Courthouse
Renovations on the historic courthouse, which began in 2019 are now complete.
Fulton County will honor the completion of the newly renovated Lewis R. Slaton Courthouse with a Ribbon Cutting Ceremony at on at 9:00 a.m. on Wednesday, October 20, 2021. Fulton County Chairman Robb Pitts and members of the executive team will be on hand to celebrate the end of extensive restoration project, which began in 2019.

"For more than 18 months, we have watched as this historic building was returned to its glory," said Pitts. "We are excited to be able to improve our facility to accommodate our citizens in a more efficient manner while preserving the beautiful architecture."

"The restoration of the 105-year-old Fulton County Lewis R. Slaton has been a long-term goal of the county," said Fulton County City Manager Dick Anderson. "The courthouse has always been one of the cornerstones of the community and with the completion of the renovations, it will continue to be."

In beginning of the $19 million project in June 2019 involved the full façade restoration of all exterior elevations of the historic, nine story, 275,000 sf Courthouse. Scaffolding was erected along the courthouse after ornamental molding made of terracotta detached from the building and fell to the sidewalk below.

As part of the restoration, skilled craftsmen cleaned, repaired and replaced cracked and failing terracotta and granite on the facade fixed exterior leaks to improve safety for pedestrians traveling near Courthouse and eliminate water intrusion into the building. The roof was also replaced with slate to provide long-term protection. Following the removal of the scaffolding, workers refinished the entry ways, handrails, ornamental lamps, and clean remaining granite stains.

"It truly has been an exciting experience to be able to work with a team assigned to do a full exterior restoration that included using materials that are original to the building such as terracotta," said Department of Real Estate & Asset Management Facilities Program Manager Bill Mason. "The county and its residents will be proud of the work that's been done."

"Fulton County worked together to complete these renovations to continue ensuring the safety of all residents, visitors, and employees," said Fulton County Superior Court Chief Judge Chris Brasher. "This building symbolizes the importance the county places on delivering efficient, high-impact service to all Fulton County residents, visitors, and employees."

The Lewis R. Slaton Courthouse was constructed between 1911 and 1914 and was designed by noted Atlanta architect A. Ten Eyck Brown. It was listed on the National Register of Historic Places in 1980.n. The building fronts on Pryor Street and Martin Luther King, Jr Drive and is part of a justice complex that includes two other buildings. The project was completed in August 2021.