Say Yes COVID Test Program Nearing Conclusion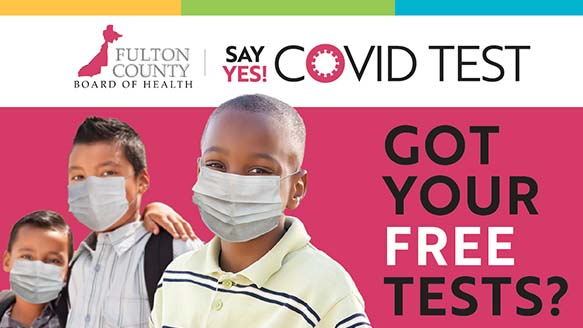 Say Yes! COVID Test Program Nearing Conclusion
Approximately 180 thousand home test kits received by areas hit hard by pandemic
Fulton County's efforts to put home COVID tests in the hands of residents has been a huge success with 180 thousand kits ordered thus far through the Say Yes! COVID Test program. This program will soon be concluding, with the last online orders to be taken by October 31, 2021, though residents can still pick up kits at our distribution locations while supplies last.

"We are extremely pleased that so many of our friends and neighbors have taken advantage of the opportunity to receive the home test kits," said Lynn Paxton, MD, MPH, District Health Director with the Fulton County Board of Health. "These residents have shown a desire to keep themselves, their families, and their communities safe."

The Say Yes! COVID Test program targets residents living in zip codes 30291, 30213, 30268, 30303, 30308, 30311, 30310, 30314, 30312, 30315, 30318, 30331, 30336, 30344, 30354, 30337, 30349, 30363. These zip codes were identified based on high rates of COVID-19, lower than average rates of vaccination, and concentration of essential workers.

The Say Yes! COVID Test program encourages residents to use the tests twice a week, regardless of symptoms, to reduce the spread of COVID-19 and keep the community healthy. Test kits have also been available for pick up from the Fulton County Board of Health clinics and at partner locations.

The Say Yes! COVID Test initiative is a cooperative effort from the National Institutes of Health (NIH), the Centers for Disease Control and Prevention (CDC), community partners, test manufacturer Quidel, and healthcare technology company CareEvolution. Fulton County residents can log on to www.CovidTestFultonCounty.org to learn more about the program and find where test kits can be picked up, and to order test kits for doorstep delivery.