Vaccination Site at Emma Darnell Aviation Museum Closed for Election Day November 2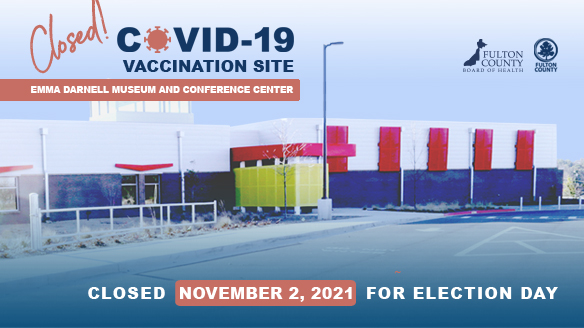 Vaccination Site at Emma Darnell Aviation Museum Closed for Election Day November 2
The Fulton County Board of Health vaccination site at Emma Darnell Aviation Museum & Conference Center (formerly the Aviation Community Cultural Center), 3900 Aviation Circle, NW, Atlanta, Georgia 30336 will be closed on and will not be taking appointments for November 2, 2021. That location is being used as a polling site for the General Election. Those seeking to be vaccinated on that date can visit one of the following locations:
•
Fulton County Government Center Atrium; 141 Pryor Street SW, Atlanta, GA 30303
•
5710 Stonewall Tell Road, College Park, GA 30349
•
4700 North Point Parkway, Alpharetta GA 30305
Appointments are recommended and can be made by calling 404-613-8150 or by following this link: https://gta-vras.powerappsportals.us/en-US/.
For more information go to
www.fultoncountyga.gov/covidvaccine