Continuum of Care Board Schedules Teleconference Meetings on December 16 2021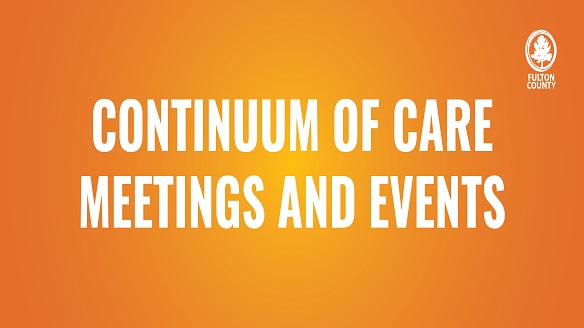 Fulton County Continuum of Care Board Schedules Teleconference Meetings on Thursday, December 16, 2021
WHO: Fulton County Continuum of Care (CoC) Board
WHAT: Due to Fulton County facility closures and schedule changes related to the COVID-19 pandemic, the Fulton County Continuum of Care Board and membership meeting will be held utilizing the Zoom platform.
Topics of discussion will include Board Member terms, policy updates, Notice of Funding Availability (NOFA) debrief, Emergency Housing Vouchers, CoC website update, Point in Time update, HMIS, Youth Advisory Board, and Special Interest and Membership committee updates.
WHEN: Board Meeting
Thursday, December 16, 2021
10:00 a.m. – 12:00 p.m.
Those members of the public wishing to participate can email
HomelessInfo@fultoncountyga.gov
CoC Membership Meeting
Thursday, December 16, 2021
1:00 p.m. – 2:00 p.m.
Register in advance for this meeting:
https://zoom.us/meeting/register/tJAudO2qqTgvHdH-1EJwAnfuwxWaxRZd9sOJ
WHERE: Residents wishing to participate in the membership meeting should register in advance via the following link:
https://zoom.us/meeting/register/tJAudO2qqTgvHdH-1EJwAnfuwxWaxRZd9sOJ