The North Fulton Master Gardeners Announce the Spring 2022 Gardening Lecture Series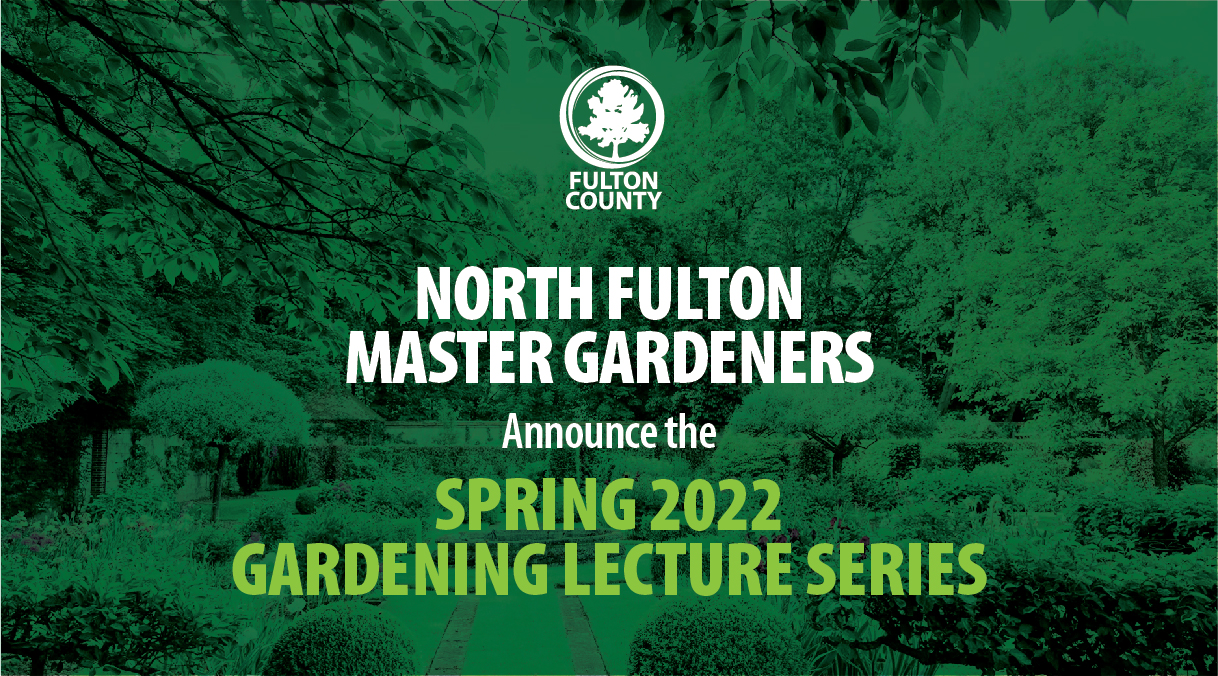 The North Fulton Master Gardeners Announce the Spring 2022 Gardening Lecture Series
The North Fulton Master Gardeners in collaboration with the UGA Extension in Fulton County are continuing to provide horticultural education to the North Fulton community and beyond through FREE virtual gardening education programming. This series of six classes begins Sunday, February 6, 2022, and will be available through live Zoom webinars and Facebook Live. The classes will also be available for later viewing at https://www.youtube.com/northfultonmastergardeners.

Each class emphasizes practical gardening activities at the time of year that is best suited for that activity. Please register in advance at http://bit.ly/Spring2022NFMG-GardeningLectureSeries to assure your place. You may register for all six classes or just pick specific classes. After registering, you will receive a confirmation email containing information about how to join the webinar. If you cannot attend the live webinar, you can register anyway so you will receive a recorded link to the class.

Don't miss these incredible opportunities to learn more about gardening in metro Atlanta.

Composting at Home

Live Zoom: Sunday, February 6 at 2:00 pm EST

Learn the value of compost for your garden, the steps involved in making compost at home, and how to best use it in your garden. North Fulton Master Gardener George Scesney has many years of composting experience to share.


Pruning & Maintaining Shrubs

Live Zoom: Tuesday, February 15 at 7:00 pm EST

North Fulton Master Gardener Willis Lanier describes why, when, and how to prune some of the most common shrubs in North Georgia.


Protecting Georgia's Pollinators

Live Zoom: Tuesday, March 8 at 7:00 pm EST

Learn how you can make a positive impact by helping out our local pollinators. Fulton County Extension Agent Melissa Mattee Murphy will review how to design a pollinator garden, attracting beneficial pollinators to your ornamental space, and how to construct a habitat for native bees. Tune in to see what all the buzz is about!


All About Plant Toxins

Live Zoom: Sunday, March 13 at 2:00 pm EST

For millions of years, plants have evolved to protect themselves from prey, disease, and encroachment as they are obviously immobile once situated. Their defenses are mechanical and chemical. A lot of the chemicals are toxins, which include allelopathy, insecticides, and fatal poisons. North Fulton Master Gardener Linda McGinn will discuss plants that produce toxins, with an overview of the history, chemistry, action, and current use.

Lawn Alternatives for a Healthier Environment

Live Zoom: Sunday, March 20 at 2:00 pm EST

Shrink your lawn: Save money and time while enhancing biodiversity! North Fulton Master Gardeners Paula Lindsey, Tom Redmon and Sandra Shave explain how you can and should reduce your lawn size by making your own native habitat. Join the effort to create a country-wide Homegrown National Park and reduce your lawn size. Use low-growing natives; plant a native wildflower meadow; establish a pollinator garden; embellish those shady spots with natives; or just convert more of your lawn to native shrubs.

Intro to Hydroponics: Learning the Basics to Enjoy Growing Without Soil

Live Zoom: Sunday, March 27 at 2:00 pm EST

In this class, we will discuss basic principles of hydroponic gardening as well as ways to enjoy this technique year-round. North Fulton Master Gardener Ian Matthes will focus on and demonstrate simple systems that are easy to start with items from around the home. We will share fun project ideas to enjoy with students and kids at home!