FGTV to Air Documentary Highlighting the Preservation of the Macedonia African Methodist Cemetery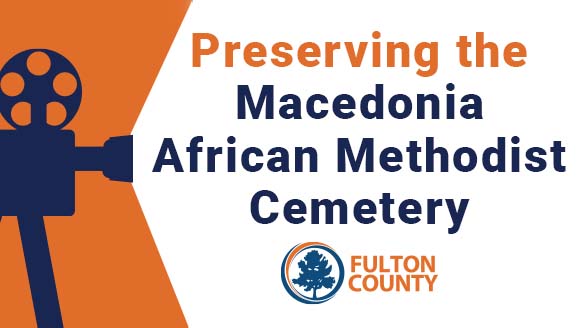 FGTV to Air Documentary Highlighting the Preservation of the Macedonia African Methodist Cemetery
The four-part film reveals an in-depth look into efforts to preserve and honor the historic site.
Fulton County Government Television (FGTV) will premiere "They Were Here: The Future of the Preservation and Commemoration of the Macedonia African Methodist Cemetery" February 7 – 13. The moving four-part film, produced by the Johns Creek, Student Leadership, will air each day at 9:00 a.m., 12:00 p.m. and 3:00 p.m.
For many years the existence of the Macedonia African Methodist Church Cemetery was forgotten. Tucked away in a neighborhood off Medlock Bridge Road, the area had been used as a dumping ground. Once discovered, preservation efforts began. To highlight the work being done, the Johns Creek Student Leadership class decided to capture the efforts on film.
"The work to preserve this piece of history was a collaborative effort with Student Leadership Johns Creek, Mercer University and the Johns Creek Historical Society," said District 1 Fulton County Vice Chairman Liz Hausmann. "Together, the group received a grant from the Georgia Humanities to develop these exceptional educational historic films."
With the help of Vice Chairman Hausmann, the Cemetery once owned by Fulton County, was officially transferred to the City of Johns Creek in 2021. The Macedonia Cemetery is home to about 105 graves of former slaves and their descendants.
The films were all created by students ages 15 - 17 in the first year of the Johns Creek Student Leadership program. In addition to filming, the students also did all the research, script writing, voice over recording, and editing of the films. The films first premiered at Johns Creek High School earlier this year.
"The collaboration this grant effort presented has been amazing," said Executive Director of Student Leadership Johns Creek Irene Sanders. "The students have had the opportunity to learn through doing about the history of the city they call home. Our hope is that these films will stand the test of time, providing a model for other communities to empower their youth to perform similar significant historical projects."
To view the complete documentary, see the link below:
https://youtu.be/5cr3Xbbezh8