Virtual Reality Experience 'Traveling While Black' Comes to Fulton County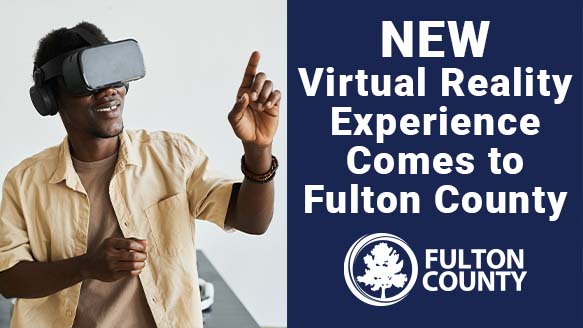 Virtual Reality Experience 'Traveling While Black' Comes to Fulton County
Fulton County Arts & Culture partners with the library system to air the documentary
The Fulton County Library System will air the virtual reality experience 'Traveling While Black' beginning February 14 in recognition of Black History Month. Produced by Montréal's Félix & Paul Studios and distributed by Centre PHI to Fulton County, the unique documentary provides a message about the dangers and injustices facing African Americans — in the past and present.
"The Fulton County Library System is happy to partner with the Department of Arts and Culture, the Québec Government Office in Atlanta and Felix and Paul Studios to present this unique virtual reality experience," said Executive Director, Fulton County Library System Gayle Holloman. "Making the exhibit available to county residents in the library space, continues to ensure that access to technology and high-tech equipment does not create a barrier to diverse experiences like Traveling While Black."
"Fulton County Arts & Culture is excited to partner with our Library System with the support of the Québec Government Office in Atlanta and Centre Phi," said Arts & Culture Director David Manuel. "This amazing virtual reality experience of 'Traveling While Black' will surely be an experience that all Fulton County residents and library visitors will always remember."
'Traveling while Black' is a term people use to illustrate that in America when you are Black and you are going from point A to point B, you are always at risk. The film is a cinematic virtual reality experience that immerses the viewer in the long history of restriction of movement for black Americans and the creation of safe spaces in our communities.
"The Québec Government Office in Atlanta and I are happy to celebrate Black History Month," said Delegate at the Québec Government Office in Atlanta David Weiner. "We are particularly glad for this opportunity to play a role in bringing the film 'Traveling While Black'. The moving message of this film must be seen and heard today, more than ever."
Viewers will get an opportunity to share an intimate series of moments with several of the patrons of Ben's Chili Bowl. The restaurant, which is also an iconic Black-owned landmark in the nation's capital, was chosen because it has been a mainstay of the African American community since 1958. Ben's Chili Bowl has witnessed significant Civil Rights milestones, which are woven into the film.
Viewers will reflect on their experiences of restricted movement and race relations in the U.S. Confronting the way we understand and talk about race in America, Traveling While Black highlights the urgent need to not only remember the past but to learn from it, and facilitate a dialogue about the challenges minority travelers still face today.
To learn more or to register for a screening of 'Traveling While Black' see the link below:
https://fultoncountyga.co1.qualtrics.com/jfe/form/SV_3KPVmS3c5DJ0xPo