Fulton County Updates Mask and Employee Testing Policies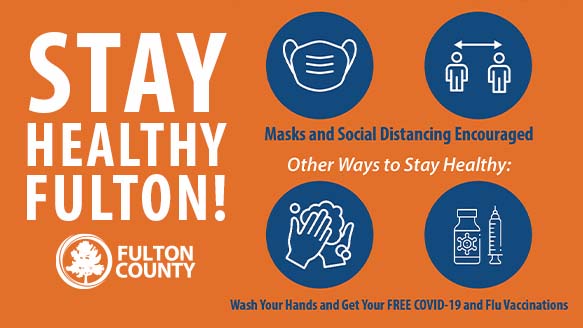 Fulton County Updates Mask and Employee Testing Policies
The Fulton County Board of Commissioners has voted to end the mask mandate in most Fulton County facilities.
On Wednesday March 2, 2022 the Fulton County Board of Commissioners voted to end the mask requirement in Fulton County facilities and the Vax and Test program for employees. This was based on a unanimous vote, in accordance with CDC guidance, exactly two years after the first two cases of COVID-19 in Georgia were identified in Fulton County.

Mask requirements in Courthouses and courtrooms are under the purview of the order of the Chief Judge of Superior Court, which remain in place for all employees and all others. In addition, the Sheriff requires masks to be worn by everyone in the Fulton County Jail. The Fulton County Tax Commissioner is continuing a mask requirement for employees, but masks are optional for the public. Masks are also required by the public and employees in all clinical areas of the Fulton County Board of Health facilities.

"Since the pandemic began, we have worked to ensure that our policies align with CDC's recommendations. Even with the progress we have made, COVID-19 still exists We will continue to use every resource to protect the lives of our employees and residents," said Chairman Robb Pitts.

While masks are no longer required in many Fulton County facilities, they are encouraged, along with social distancing and hand washing. All residents are encouraged to get a COVID-19 booster shot or vaccine if they have not yet done so.
Over the last two years, Fulton County has led a robust COVID-19 response for the benefit of its residents, administering more tests than any other Georgia county, and administering more than half a million COVID-19 vaccines. Fulton County agencies continue to perform outreach in low-vaccination rate communities.

Other Fulton County resources have assisted residents with other impacts of COVID-19, including mental health, food security, rental assistance, and more.