Fulton County Continuum of Care Board Schedules Teleconference Meeting on Tuesday, May 24, 2022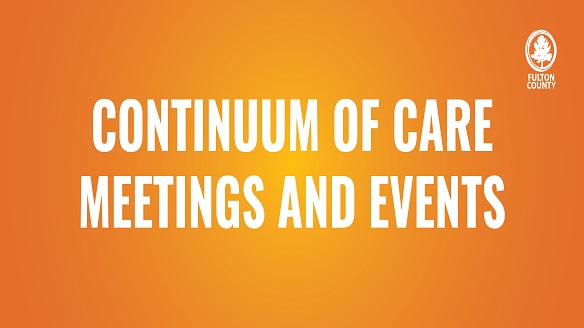 Fulton County Continuum of Care Board Schedules Teleconference Meeting on Tuesday, May 24, 2022
Due to Fulton County facility closures and schedule changes related to the COVID-19 pandemic, the Fulton County Continuum of Care membership meeting will be held utilizing the Zoom platform.
Topics of discussion will include the Department of Housing and Urban Development (HUD) 2022 Notice of Funding Opportunity (NOFO) and Youth Homeless Demonstration Program Grant (YHDP), and an update on the GA 502 Fulton County CoC April 2022 Board Retreat.
Fulton County is applying for funding through the HUD Youth Homelessness Demonstration Program. To complete the application, we need the public's help with completing
one (1) minute survey
about youth experiencing homelessness in Fulton County, outside of Atlanta.
Click here to complete the survey.

WHEN: Board Meeting
Tuesday, May 24, 2022
1:00 p.m. – 3:00 p.m.
WHERE:ZOOM (Register in advance for the meeting)
https://zoom.us/meeting/register/tJwkceyvrT8tH9E5nPT6C2b7spVoOA5ngrOo