Board of Health to Add Two New COVID-19 Vaccine Sites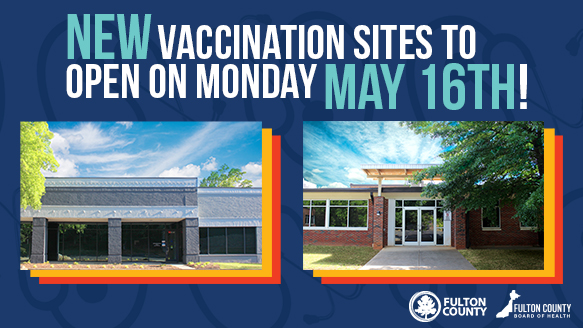 Board of Health to Add Two New COVID-19 Vaccine Sites
The Fulton County Board of Health has added two more locations to the list of sites offering COVID-19 vaccinations. Starting Monday May 16, 2022, FCBOH will begin offering the Pfizer-BioNTech COVID-19 vaccine at two more of its health centers:
•
Neighborhood Union Health Center; 186 Sunset Ave NW # 186, Atlanta, GA 30314
•
North Fulton Regional Health Center; 3155 Royal Drive, Alpharetta, GA 30022
The new vaccine locations will offer first and second shots as well as booster shots. The North Fulton location will be open weekdays 9 a.m. to 4 p.m. Vaccinations at Neighborhood Union will occur on Mondays and Tuesdays, 9 a.m. to 4 p.m. The additional locations are being added to combat increasing case loads in the region and nationwide.
These two locations will also offer incentives to those getting their initial vaccinations. Fulton County residents are eligible to receive $100 gift cards after getting their COVID-19 vaccine at these and other select Fulton County Board of Health regional health centers. The incentive is available only to Fulton County residents, ages 5 and up, seeking their first or second doses of COVID-19 vaccine. The other FCBOH locations offering vaccination incentives include:
•
5710 Stonewall Tell Road, South Fulton, GA 30349
•
Adamsville Regional Health Center, 3700 Martin Luther King Jr. Drive, SW, Atlanta, GA 30331
•
College Park Regional Health Center, 1920 John Wesley Avenue, College Park, GA 303374
For more information go to
www.fultoncountyga.gov/covidvaccine