Registration Begins for the 2022 Fulton Fresh Summer Kids Camp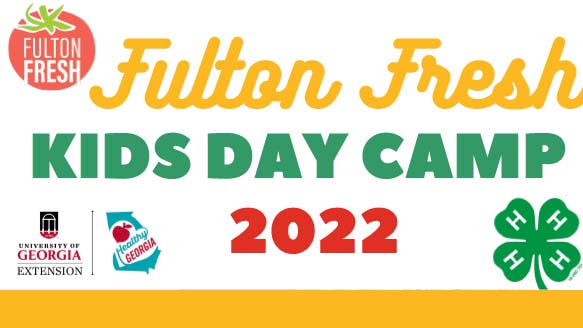 Registration Begins for the 2022 Fulton Fresh Summer Kids Camp
WHO: UGA/Fulton County Cooperative Extension
WHAT: Registration is now being accepted for the 2022 Fulton Fresh Summer Kids Camp. The Camp, which is opened to rising 4th – 6th graders will provide life skill, STEAM, gardening, and other activities. The total cost for each week of the camp is $60. Payments including weekly installments for the camp are now being accepted. Please contact the Fulton County/UGA Extension Office located at 1757 E. Washington Road East Point, GA 30344 before coming to the office to make a payment. To secure your camper's registration, all payments must be made by May 31. 2022.
WHEN: Fulton Fresh Life Skills (June 6-9)
Fulton Fresh Let's Get Moving (June 13-16)
Fulton Fresh Life STEAM (June 20-23)
Fulton Fresh Life Grow Your Green Thumb (June 27-30)
Fulton Fresh Life Arts & Culture (June 11-14)
WHERE: Camp Truitt 4H Education Center
4300 Hershel Road
College Park, GA 30337
The Fulton Fresh Summer Kids Day Camp will begin at 9 a.m. each morning. To register your camper visit
https://docs.google.com/forms/d/1cb3mjZnLXcU2w9P1So3OzMpJyG8fYJqkplyWeulcvM4/edit
.
For more information, contact Yvette Davis at 404-613-4920 or at
ydavis@uga.edu