Fulton County Expands Small Business Loan Offerings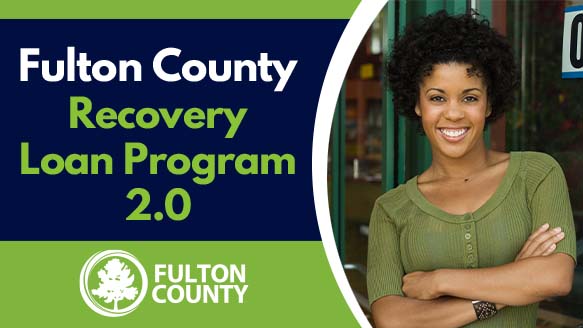 Fulton County Expands Small Business Loan Offerings
Recovery Loan Program 2.0 Adds More Flexibility to Loan Amounts and Use of Funds
Select Fulton, in partnership with Access to Capital for Entrepreneurs (ACE), is launching the Fulton County Recovery Loan Program 2.0 to serve a broader range of small businesses and their needs as the impact of COVID-19 continues to be felt.
Starting August 1, 2022, small business owners in Fulton County, excluding those located inside the City of Atlanta, will be able to access the newly created Fulton County Recovery Loan Program 2.0. The $3.9 million fund is designed to support small businesses that are still finding it difficult to grow their business due to the COVID-19 pandemic. Some of the notable changes include 1) loans that range up to $100,000, 2) longer repayment terms, and 3) and loans that can be used for COVID recovery capital investments, not just declines in revenue.
The Fulton County Recovery Loan Program offers up to $100,000 in loans for qualifying Fulton County small businesses. Participating businesses can also access Business Advisory Services specifically designed to assist and support loan clients to strengthen their operations, achieve growth, and improve organizational sustainability.
"Fulton County takes the support of small businesses very seriously," said Robb Pitts, Chairman of the Fulton County Board of Commissioners. "These new changes to our loan fund will enable us to serve more small businesses and meet them where their needs are, so they can adapt and thrive in a post-pandemic economy."
The Fulton County Recovery Loan Program prioritizes loans and services to those most impacted by the pandemic, such as minority and female-owned small businesses and industries like performing arts, food service, education, and accommodations.
"The changes to the program speak to the strong partnership we have with Fulton County," says Grace Fricks, President and CEO of Access to Capital for Entrepreneurs (ACE). "When we realized we could serve many more small businesses by increasing the types of loans offered, Fulton County didn't hesitate for a second by implementing the changes. We look forward to continuing to be the front lines for small business support in Fulton County."
To qualify, organizations must be in business for at least two years. All applications will be accepted online. Businesses will be asked to provide required documentation to ACE by fax, mail, or email. A final decision will be made as quickly as possible. For more information, log on to https://aceloans.org/fulton.