5th Annual Joan P. Garner Walk and Health Fair Rescheduled Due to Severe Weather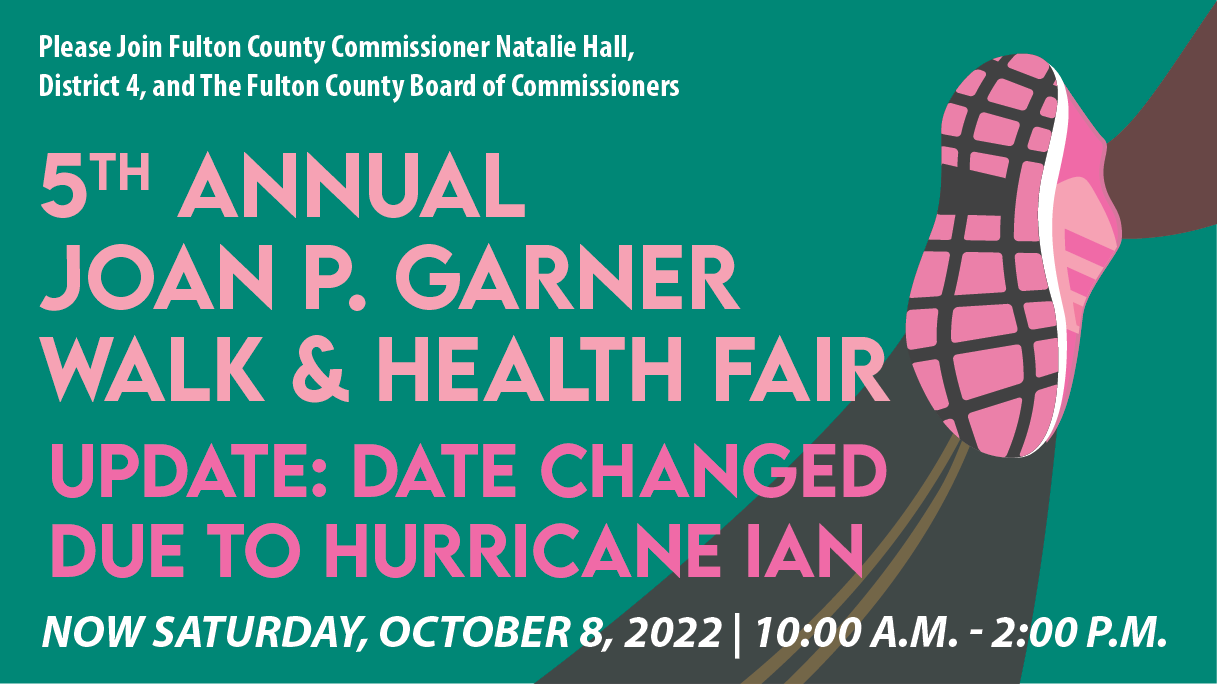 5th Annual Joan P. Garner Walk and Health Fair Rescheduled Due to Severe Weather
The health and wellness event will now be held on Saturday, October 8, 2022.
Due to predicted severe weather conditions from the aftermath of Hurricane Ian, the 5th Annual Joan P. Garner Walk and Health Fair scheduled for this weekend has been rescheduled to next Saturday, October 8.

The health and wellness air honors the legacy of the late Commissioner Joan P. Garner and will kick-off at Rodney S. Cook, Sr. Park located at Vine Street NW, Atlanta, GA 30314 in Historic Vine City.

The event, which is being hosted by Fulton County District 4 Commissioner Natalie Hall will take place from 10 a.m. to 2 p.m. and will offer a wide range of screenings, activities, food, and entertainment, and it's all free to the public.

"It is important that we make sure that our residents receive the resources needed to take care of their health," said Commissioner Hall. "I encourage residents and guests to come out and enjoy a fun-filled day while receiving information on the importance of health and wellness."

The annual community event features a concert, performers, food vendors, games for children, prizes and giveaways, community-based resources, dance and fitness interactive activities, vaccinations, health screenings, and other activities.

The Walk and Health Fair pays homage to the late Fulton County Commissioner of District 4 Joan P. Garner, who spent decades advocating for civil and human rights and health issues. She served as the Executive Director of the Historic District Development Corporation, a nonprofit founded by Coretta Scott King to revitalize the Old 4th Ward and Martin Luther King Historic District. During her tenure as Commissioner, Joan P. Garner worked tirelessly to fight against health inequity, for assistance with the HIV crisis in the region, and became the Executive Sponsor of Fulton County Government's "All People Are Healthy".