Fulton Residents Gain Free Access to Self-Serve COVID-19 Kiosks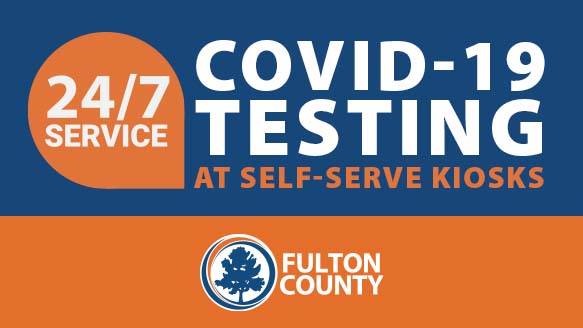 Fulton Residents Gain Free Access to Self-Serve COVID-19 Kiosks
Kiosks at Fulton County facilities offer free PCR tests to residents 24/7
Fulton County residents now have access to free, self-serve COVID-19 testing kiosks at two locations in Fulton County. As part of a collaboration between the Atlanta-Fulton County Emergency Management Agency (AFECMA) and the Georgia Department of Public Health (DPH), these kiosks dispense nasal swab PCR tests 24 hours per day, seven days a week.

The kiosks are currently installed at two locations:

• North Fulton Service Center
7741 Roswell Road NE
Sandy Springs, GA 30350

• Adamsville Regional Health Center
3700 MLK Jr. Drive SW
Atlanta, GA 30331

Upon taking the self-administered tests, residents can follow the instructions to safely package and return specimens to the kiosk. Those tests will be collected by an accredited testing lab. Kiosk users will receive their results via text or e-mail within a 48-hour period. While pre-registration is not a requirement, residents may complete the form beforehand. There are no out-of-pocket costs for the uninsured and for those with health insurance, their providers will be billed.

"The kiosks provide our residents with a quick and convenient option to help determine their status," said Fulton County District Health Director Dr. Lynn Paxton. "We hope that our residents take advantage of this testing option to help keep themselves and their communities safe from COVID."
"We are thrilled to expand this vital and potentially life-saving health service to Fulton County residents," said Atlanta-Fulton County Emergency Management Agency Director Matthew Kallmyer. "Early detection is a critical prevention measure against the spread of COVID-19. This service also empowers residents to live safer, healthier lives, which is our top priority."

In addition to PCR testing, Fulton County residents may protect themselves from COVID-19 through physical distancing, masking, and getting a vaccinated. More details about vaccinations and boosters are available online. For more details on COVID testing options in Fulton County, visit fultoncountyboh.com/services/epidemiology/covid-19/covid-19-testing.