Fulton County & Cities Reach Agreement in Local Option Sales Tax Negotiations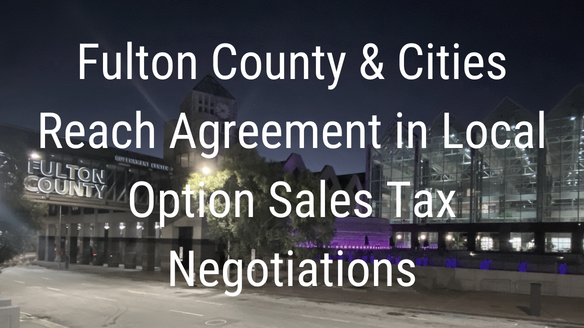 Fulton County & Cities Reach Agreement in Local Option Sales Tax Negotiations
The Fulton County Board of Commissioners has reached an agreement with the 15 cities regarding distribution of Local Option Sales Tax revenues over the next decade. The agreement was approved by the Board during their November 2 meeting.

Under the terms of the agreement, Fulton County's portion of the Local Option Sales Tax will increase from the current share of 4.98% to 12.5% over the next decade. The new agreement will net $383 million over the next decade for Fulton County. Under the current share of 4.98%, Fulton County would receive $191 million over the next decade.

The County's share of LOST proceeds will increase gradually each year. Over time, this will provide additional revenue to help address Fulton County's growing needs in public health, public safety and other service areas.

Throughout the negotiation process, Fulton County has sought to treat the cities with respect, recognizing that they are partners in serving 1.2 million residents as well as workers and visitors. The cities are projected to receive $3.46 billion in revenue from LOST over the next decade.

"We are glad that the cities have recognized the importance of Fulton County's services for our citizens, and the extraordinary needs we are facing," said Chairman Robb Pitts. "This agreement does not meet every need but is a positive step forward."

Fulton County will continue to seek opportunities to address revenue needs over coming months while minimizing impact to property taxpayers.