Fulton County Accepting Competitive Applications for the Emergency Solutions Grant COVID-19 CARES Act Grant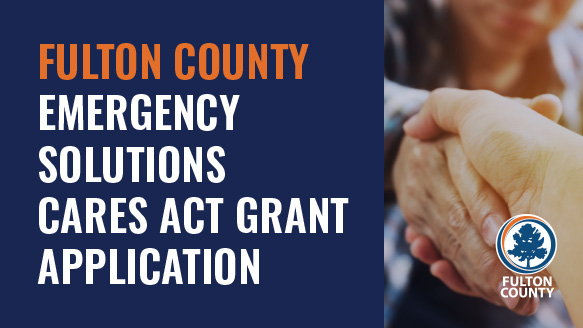 Fulton County Accepting Competitive Applications for the Emergency Solutions Grant COVID-19 CARES Act Grant
The application deadline is May 26, 2023, at 3 p.m.
The Fulton County Department of Community Development will launch the application period for the Emergency Solutions Grant (ESG) COVID-19 CARES Act on Wednesday, April 26, 2023, to aid eligible non-profit organizations that provide homeless services in Fulton County. Applicants may complete applications until Friday, May 26, 2023, at 3 p.m.
Fulton County's Department of Community Development was awarded additional federal funding for these grants from the U.S. Department of Housing and Urban Development (HUD). Through this funding, qualifying non-profits, who provide homeless services in Fulton County, outside the City of Atlanta, may apply for service categories to include Emergency Shelter and Homeless Prevention.
Additionally, the ESG CARES Act funding is available for homeless services to prevent, prepare for, and respond to the COVID-19 pandemic, including the economic impact among individuals and families who are homeless or receiving homeless assistance.
There is approximately $314,100.77 in available grant funds.
On April 26, 2023 the application and supporting documents will be made available on the BidNet Direct website.
A Virtual Pre-Proposal Conference and Technical Assistance workshop will be hosted on Thursday, May 11, 2023, from 10 a.m. - 12 noon and from 1 p.m. - 3 p.m.
*Zoom Meeting ID and Password will be provided to those who RSVP for this date.
Applicants can RSVP for the Technical Assistance Workshop using the following ZOOM Link: https://zoom.us/meeting/register/tJEuf-qvrT4qGNeXBrp6sosvOSOO_74XkabK.
Meeting ID: 953 8373 5023
The application document and supporting documents can be downloaded from the Fulton County Purchasing Department Bid page website.
For further information, please refer to the Fulton County website.