Fulton County Accountability Court Holds Special Graduation in Honor of the Program's Success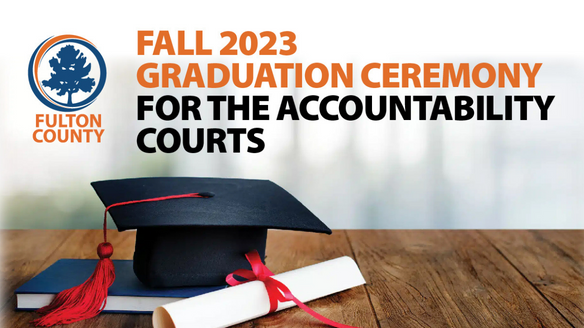 Fulton County Accountability Court Holds Special Graduation in Honor of the Program's Success
The Fulton County Accountability Court has scheduled a special commencement ceremony for Friday, October 27, 2023, at 1:30 p.m. Graduates and their families will gather in the Government Center's Assembly Hall at 141 Pryor Street in downtown Atlanta. This special graduation, which will honor those completing the 18-month program, also marks the 25th anniversary of the first commencement celebration.
The Fulton County Accountability Court has been offering jail diversion services to individuals who have been convicted of law violations since 1998. The mission of the Fulton County Accountability Court is to provide a court supervised alternative sentencing program to those citizens facing a felony level charge in Fulton County, and who suffer substance abuse and/or mental health issues.
The program includes enhanced supervision, as well as individual and group treatment sessions to help participants make positive lifestyle changes while gaining a deeper understanding of their disease or addiction. Treatment courts are widely recognized as the most effective method for reducing addiction, crime, and recidivism while also saving taxpayer dollars. The program includes Drug Court, Behavioral Health Treatment Court, and Veterans Treatment Court.
In recognition of the 25th anniversary celebration, Accountability Court is proud to announce that Bishop William Murphy III, an award-winning gospel artist, will deliver a powerful keynote address at the event. Additionally, retired Chief Judge Doris Downs, the longest-tenured Accountability Court Judge, will reflect on the program's tremendous impact on the Metro-Atlanta community for the past 25 years. The ceremony also aims to honor and welcome back individuals such as graduates, former team members, and legal partners who have contributed to the program's success.
"This is a great day for our court system," said Superior Court Judge Robert C.I. McBurney.
"As we approach another Accountability Court graduation where we will proudly celebrate our clients' hard work, perseverance, and long-term commitment to sobriety it is important to remember our purpose, which is to assist members of our community struggling with addiction to reintegrate into society as productive citizens who lead healthy and independent lives. We remain focused on helping high-risk, high-needs individuals get back on track and move forward in a positive direction."
For more information about ongoing programs and Fulton County Accountability Court services, please visit:
https://fultoncourt.org/
.