Animal Services Facility
Animal Services
Animal Services facility Project
Animal Services Facility
Construction is well underway for Fulton County's new 50,000-square-foot Animal Services Facility, which will is projected to open in the fall of 2023.

"Fulton County is a world-class county, and we need a world-class animal shelter," said Chairman Robb Pitts. "Animal services are a high priority for our residents. The unanimous vote for this project shows that this is also a priority for the Board of Commissioners."

The new facility, located on Fulton Industrial Boulevard, was approved in 2020 by a unanimous vote of the Board of Commissioners. It is financed primarily through Fulton County Urban Redevelopment Authority Bonds, with a portion paid through capital improvement funds from user municipalities.

Check back for regular updates throughout project construction.
---
CONSTRUCTION UPDATE (as of April 27, 2023)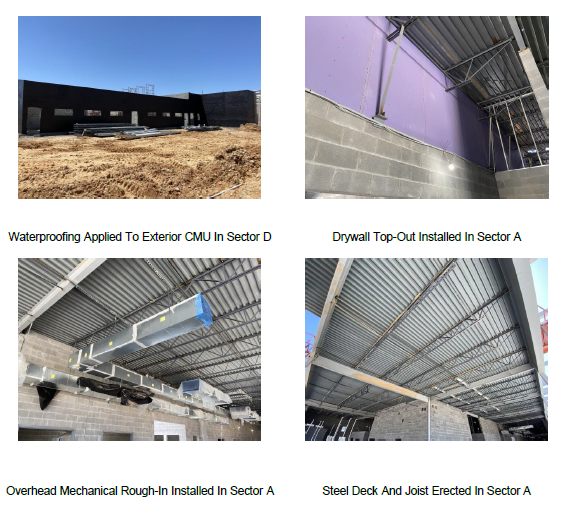 During the week of April 17, Sector A of the shelter has seen numerous changes, including: overhead rough-in for mechanical, electrical and plumbing. We've also added drywall, exterior waterproofing, steel joists and structural steel. Sector B has undergone similar developments, with the addition of roofing and metal stud installation. Mechanical block out for CMU walls continue in sectors C and D, as well as the aforementioned rough-in.

From April 24-28, roofing, rough-in, developers have continued adding metal stud installation and CMU top wall supports for sectors A and B. In addition, rough-in in CMU walls have continued throughout the facility and temporary power has been added to the structure!

Check back for progress reports leading up to our topping-off ceremony this summer, and a final ribbon cutting this fall!
---
CONSTRUCTION UPDATE (as of April 12, 2023)

Progress continues to be made toward the new Animal Services Facilities. As of early April, the load-bearing walls in Kennel Run 2 have been raised, wall bracing to the steel joists in Sector B has been added, and exhaust fans in other building sectors have been installed.

Sector B has also seen additions of exterior waterproofing, as well as overhead rough-in for plumbing, mechanical and electrical.

In the upcoming week, Sector B will receive more overhead rough-in for plumbing, electrical, and roofing. In Sector A, the structural steel installation will be completed.
---
CONSTRUCTION UPDATE (as of February 10, 2023)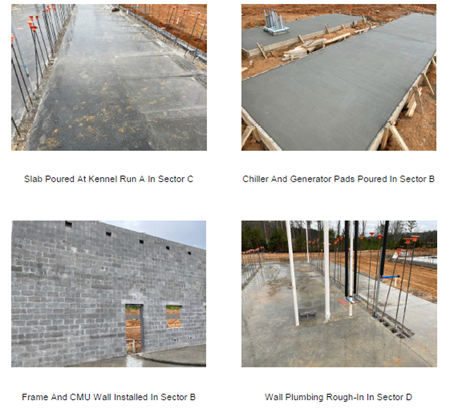 This month, we're excited to share that this state-of-the art facility will receive load-bearing walls, steel beams and columns, joists, veneer pouring, storefront windows and more. The final inspections are scheduled for late August.
SkyTour:
Drone 1 footage
---
CONSTRUCTION UPDATE (as of November 18, 2022)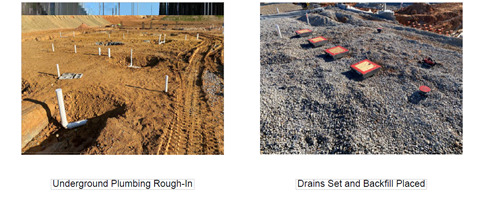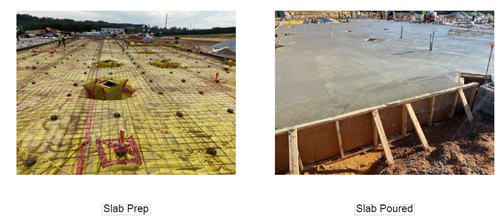 Click here to view the Animal Services Facility's Ariel Update Presentation.
Skytour:
221117_FCAS_360 Drone SkyTour

Skyvids:
221117_FCAS_Drone SkyVid 1
221117_FCAS_Drone SkyVid 2
animal services
animal Services Facility project News
21 - Sep
Happening In Fulton: New Animal Services Facility Update
Plans to open the brand new Fulton County Animal Services Facility will get pushed back to 2023 due to challenges from the supply chain shortage.
Read More
12 - Aug
Pet Tails: Animal Services Facility Discussion
Fulton's COO of Public Safety explains why county leaders wants the public's input on a new Animal Services Facility. Plus meet a local woman who took advantage of a free adoption event.
Read More
See All News