Fulton Films 2021 Red Carpet Virtual Fair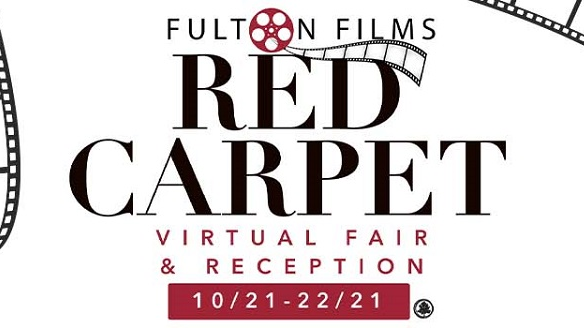 Fulton Films Kicks-off First Red Carpet Virtual Film Fair
Two-day event to provide advice from industry executives and free participant workshops.
Fulton County residents seeking more information about film careers, business opportunities and creative opportunities are invited to Fulton County's Inaugural RED CARPET Virtual Film Fair. The FREE hybrid event will feature virtual film workshops, and panel discussions on Thursday, October 21, and an in-person VIP Red Carpet Reception for the Film Fair Partners on October 22, 2021.
"We have gathered some of the best in the film business to present these workshops, trainings and panel discussions," said Fulton County Chairman, Robb Pitts. He adds, "If you're interested in film, film production, writing, producing, directing, set-design, costume design, budgeting or how to pitch, the Fulton County Film Fair is for you."
"Fulton County recognizes the tremendous positive impact the film industry has not only in this county, but throughout the state of Georgia," said District 5 Fulton County Commissioner Marvin S. Arrington, Jr. "This is an opportunity for us to help those wanting to learn more about how to become part of the film business. From lights, cameras, hair/makeup, wardrobe, if you've ever wondered how all of the elements come together to create a show or a movie, expert panelists during the Virtual Film Fair will address your questions and share their career trajectory. "
The Virtual Fair on Thursday, October 21 will be an opportunity for adults and college students to connect with television and film executives, and experts and influencers within the industry. On Friday, the program will highlight Fulton County's film partners.
The 2021 Fulton Films RED CARPET Virtual Fair Partners are Georgia Production Partnership, The Fulton County Executive Airport, City of East Point Georgia, Fulton County Sheriff Office, the City of Atlanta Mayor's Office of Film & Entertainment, MARTA, The Atlanta Pitch Summit, Bronzelens Film Festival, LEEWAY Productions, Women in Film & Television Atlanta, Dream Girl Media, and The Georgia Hollywood Review
Known throughout the country as "Hollywood of the South," Georgia is now the third largest state for film and television production, following California and New York. With Turner studios, Tyler Perry Studios, EUE/Screen Gems Studios and Triple Horse Studios, Fulton Films is committed to providing training, exposure and networking opportunities to those in the industry and those looking to enter.