Logic and Accuracy Test to Begin for the November 8 2022 General Election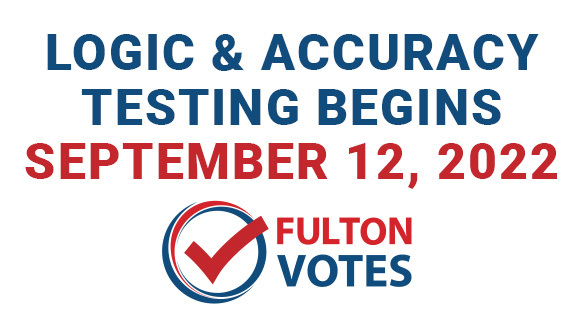 Logic and Accuracy Test to Begin for the November 8, 2022 General Election
Logic and Accuracy Testing to Begin for the November 8,
2022 General Election. Public invited to observe critical process involving the testing of voting equipment.
Logic and Accuracy (L&A) Testing of the Fulton County
Elections voting system will begin on Monday, September 12, at 10 a.m. for the upcoming November 8, 2022 General Election.
L&A Testing will be conducted at the following Fulton County Registration & Elections Warehouses located at

- 1365 English Street NW #A, Atlanta, GA 30318.
- 5210 Phillips Lee Drive Atlanta, Georgia 30336

This testing process confirms that the equipment is loaded with the correct election files, as certified by the Georgia Secretary of State. Upon successful completion of L&A and function testing, all equipment will be ready to be delivered to each assigned polling site in time for early voting and for election day for the November 8 General Election.
To review the Notice of Logic and Accuracy Testing, visit
https://fultoncountyga.gov/inside-fulton-county/fulton-county-departments/registration-andelections.