Fulton County Re-Openings and Service Changes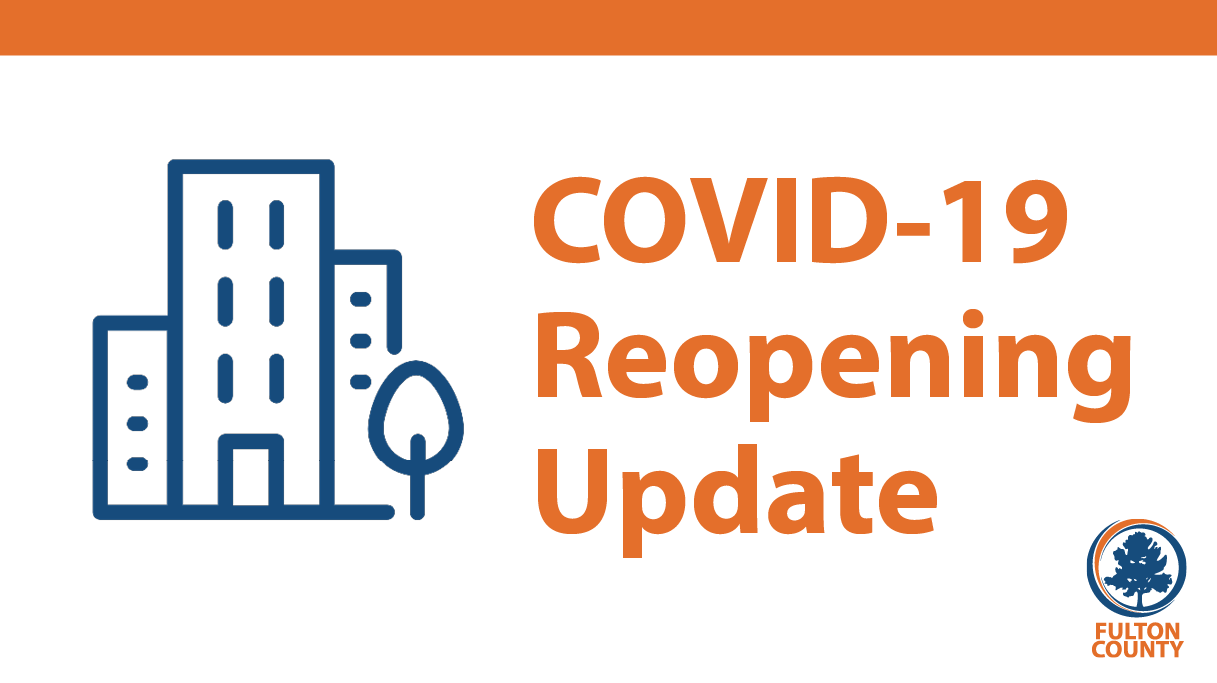 Read the Latest on Fulton County Re-Openings and Service Changes
This is a summary of updates to services, facility access, meetings, and events. Click here to see a list of services available online.
ARTS & CULTURE
Hours and availability at Fulton County Arts Centers have been modified. View hours.View virtual class schedule.
---
BEHAVIORAL HEALTH AND DEVELOPMENTAL DISABILITIES
View updated hours for Behavioral Health and Developmental Disabilities.

If you are experiencing a behavioral health crisis, please call the Georgia Crisis & Access Line at 1-800-715-4225, available 24/7.


---
BOARD OF HEALTH
Board of Health services are open at the following locations:
North Fulton Regional
10 Park Place
College Park Regional
Adamsville Regional Health Center
Neighborhood Union Health Center
Oak Hill, Child, Adolescent and Family Health Center (appointment only)
Center for Health and Rehabilitation (for COVID -19 Testing ONLY)
View COVID-19 testing information
Anyone exhibiting symptoms of COVID-19 will not be allowed into the building. Those refusing to wear a mask and or have their temperature taken will not be allowed into the facility.
---
CLERK OF SUPERIOR AND MAGISTRATE COURTS
ALL services at the North and South Fulton Service Centers will be by appointment only. Customers can access the appointment scheduler at fultonclerk.orgThe Clerk of Superior and Magistrate Courts downtown location at 136 Pryor Street is currently not accepting appointments and will continue to accept walk-ins.
Residents are encouraged to utilize eServices here.
---
JUVENILE COURT
The Fulton County Juvenile Court will continue to operate on a Modified Judicial Hearing Schedule to limit the physical presence of individuals in the court building and courtrooms. Learn more.
---
LIBRARY SERVICES
All Fulton County branches and the Auburn Avenue Research Library are open to the public Monday - Saturday Learn more.

Ask a Librarian live assistance site will be available during the same hours as curbside services.
Various digital services are also available.
---
MARSHAL

Evictions resumed on July 20, 2020. We are scheduling dates and times for execution of writs, if we have a writ for your property, you will receive a call to schedule. Please be patient as we have a large number of phone calls to make. As always, writs will be executed based on the order of receipt by our department. With regards to questions concerning your writ, please contact the assigned deputy first, should you attempt to contact the deputy assigned to your writ and the deputy is not in the office, please leave a message as all deputies are out working diligently to schedule accordingly.

If you have questions regarding:
Please allow 48 hours for all calls, voicemails, and emails to be returned.
---
PROBATE COURT / WEAPONS CARRY PERMIT

Due to a large number of Applications for New and Renewal Weapons Carry Licenses, you can expect significant delays at each location. You may wish to complete your application before coming to the Probate Court.

Click here for the application
which can be filled out online and printed out OR printed out as a blank document and completed in ink. This application is used for both initial applications and renewal applications. DO NOT sign the application until you file it with the Court. You may also complete your application after you arrive at the Court.
The Probate Court accepts Applications during the following hours: Main Probate Court office (downtown) – 8:30 a.m. – 3:30 p.m.; North Service Center – 8:30 a.m. – 4 p.m.; South Service Center 8:30 a.m. – 1 p.m.

Renewals - Based on an Executive Order signed by Governor Kemp on May 8, 2020 anyone who has a Weapons Carry License that expired between February 13, 2020, and June 12, 2020, must apply for renewal within 120 days after the expiration date on the face of the license.

Fingerprinting
Fulton County Police Department, Alpharetta Police Department, and Sandy Springs Police Department, North Fulton Service Center and South Fulton Service Center are offering fingerprinting services. Fulton County Police Department will fingerprint any resident of Fulton County. Alpharetta Police Department will only fingerprint residents of Alpharetta. Sandy Springs Police Department will only fingerprint residents of Sandy Springs. The City of South Fulton will not begin fingerprinting until August 31, 2020, or later.
---
REGISTRATION AND ELECTIONS
To request an Absentee Ballot: To ensure the safety of all residents, we are referring voters to the new portal provided by the Secretary of State's Office. To request an absentee ballot, voters can visit https://ballotrequest.sos.ga.gov Voters will need to enter their driver's license number. The information will serve as their signature, which is required on the application.
---
SELECT FULTON
Due to the Coronavirus (COVID-19) pandemic, the One-Stop Career Centers at North Fulton Service Center, South Fulton Annex, and Adamsville Regional Health Center are CLOSED until further notice. Job seekers are encouraged to visit ATLWorks.org for information about employment and training services. They can complete the fields and a staff member will follow up with them about their needs.
---
SENIOR SERVICES
Senior Centers will remain closed until additional updates are provided by the Board of Commissioners during the February meeting.
The Senior Multipurpose Facilities and Neighborhood Senior Centers have reopened with limited access. Multipurpose Facilities will be open 9 a.m. - 1 p.m. and Neighborhood Senior Centers are open 9 a.m. - 12:30 p.m.
Senior Services will practice social distancing and adhere to measures that protect the safety and health of our customers.
Click here for a list of classes.
For Senior Meal Assistance Call the Senior Services STARLINE 404-613-6000.
---
SHERIFF
All visitation is suspended until further notice at the Fulton County Jail, Alpharetta Annex, Marietta [Street] Annex, and South Fulton Annex (in Union City). The only exception to this directive will be for attorney visits, judges, clergy, medical/mental health providers, and other law enforcement agencies. Online video visitation is still available at www.fultonsheriff.net via communications vendor Securus.

Learn more.
---
TAG OFFICES
View the locations and hours for Tax Commissioner offices here.
Residents who need to simply renew their vehicle registration can avoid the lines by visiting a Kiosk location or renew online. Fulton County has waived convenience and credit card processing fees to make kiosks and online registration more convenient.
Vehicle Registration Kiosks are located at the following Kroger stores:
• 2685 Metropolitan Parkway SW, Atlanta, GA 30315
• 227 Sandy Springs Place, Sandy Springs, GA 30328
• 3330 Piedmont Road NE, Atlanta, GA 30305
• 800 Glenwood Avenue SE, Atlanta, GA 30316
• 725 Ponce De Leon Ave NE, Atlanta, GA 30306
• 10945 State Bridge Road, Alpharetta, GA 30022
Kiosks are also available at all Tax Commissioner office locations.
For more information or to renew vehicle registrations online, click here.
---
VITAL RECORDS
The office of Vital Records will return to normal business hours from 8:30 a.m. to 4:30 p.m.at 141 Pryor Street. This office handles Birth and Death Certificates. Services are also available online.